FOR WAGON WHEELS, THINGS YOU NEED TO KNOW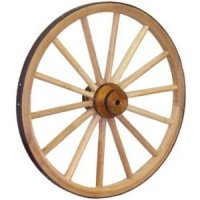 Wagon Wheels are like people, they come in all different sizes and configurations. There are Wagon Wheels with wood hubs, Wagon Wheels with metal hubs, the same is true for Cannon Wheels, Buggy Wheels and Carriage Wheels. Then there are Steel Wagon Wheels, all handmade Wagon Wheels
Then you come to the choice of do you want a functional or a decorative wagon wheel. You can use a functional Wagon Wheel as a decorative Wagon Wheel; however, you can't use a decorative Wagon Wheel as a functional Wagon Wheel. Now that I have you completely confused, please allow me to explain so thing you should know about Wagon Wheels.
The first thing that you should know is that if you are not sure about what you need, contact us by phone (858) 887-9432) or email Contact Us. We have a number of people who love to give advice and we will be more than happy to assist you with your questions.
If you are looking for Wagon Wheel repair, most of the time we can build you a new Wagon Wheel that will look just like your old Wagon Wheel much cheaper than you can send us your Wagon Wheel, Cannon Wheels, Buggy Wheels, Carriage Wheels or Steel Wagons Wheels we take the wheel apart, make the repairs and ship the Wagon Wheel back to you.
We are a family owned and operated business with a Better Business Bureau rating of A+. We have been building Wagon Wheels, Cannon Wheels, Buggy Wheels, Carriage Wheels and Steel Wagons Wheels for almost 50 Years in the Appalachian Mountains of KY and PA. All of our Wagon Wheels are handmade from select hickory wood with quality workmanship.
We trust that you have enjoyed your visit and that you will come back often, you will find a large selection of rustic and western items on our Online Store.

Home | Store | Wood Wagon Wheels | Site Map | About Us | | Custom Wagons
Wheel Information | Privacy Policy | Steel Wagon Wheels | Cannon Wheels