About For Wagon Wheels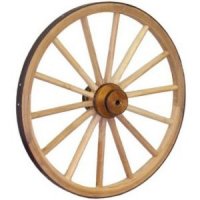 For Wagon Wheels, For Wood Wagon Wheels, For Steel Wagon Wheels, For Cannon Wheels. For Wagon Wheels to use for, Western, Rustic and Country decor.
For over Fifty Three years our company has provided quality handmade Wood Wagon Wheels, Steel Wagon Wheels, Carriage Wheels, Buggy Wheels, and Cannon Wheels for our customers. We make Custom Wagon Wheels, Horse Drawn Wagon Wheels, even Decorative Wagon Wheels, and Wagon Wheel Chandeliers. All HandMade in the USA, For 53 years
We are a family owned and operated business, located in the Appalachian Mountains of Eastern Kentucky and Eastern Pennsylvania. You will find our wagon wheels In the movies (Paramount, DreamWorks, Warner Brothers Pictures, Disney, Turner Films), on TV (Trading Places, Into The West, Myth Busters), on the beach at resorts, in university theater groups and major theme parks (Disney, Six Flags, Silver Dollar City, Kennywood, Tweetsie Rail Road) and working wagons across America and around the world, if you have questions, Contact Us.
Main Site

Home
About Us
Links
Solutions

Services
Clients
Wheel Information
Help

Contact
Site Map
Wheel Information